[an error occurred while processing this directive]
DEPARTMENT NEWS!
Special Issue of JVGR now published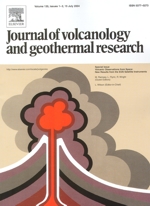 Michael Ramsey has co-edited a special issue of the Journal of Volcanology and Geothermal Research entitled, Volcanic Observations from Space: New Results from the EOS Satellite Instruments, along with Luke Flynn and Robert Wright from the University of Hawaii.
The issue stems from a special session at the Fall 2001 American Geophysical Union (AGU) meeting that was convened to showcase the current research in volcanic systems and processes using the new EOS satellite data sets. The aim of of the special issue is to focus on a series of detailed examples where the authors have used EOS data to investigate a specific question, rather than a generalized overview of all possible volcanological applications of remote sensing data.
For more information about the special issue, click here
For other Departmental News & Information, click here
First Announced: August 30, 2004
| | |
| --- | --- |
| | Last Updated: [an error occurred while processing this directive] |