Professor Michael Ramsey and Dr. Adam Carter featured in National Geographic
The research of Michael Ramsey and Adam Carter from the Department of Geology and Planetary Science at the University of Pittsburgh was recently featured in National Geographic News, the online site of National Geographic Magazine. The article, "Infrared Technology Reveals Volcanoes' Secrets", focused on the ongoing research at Bezymianny Volcano in Kamachatka, Russia using thermal infrared data. It will also be highlighted on the Nat Geo television channel airing Wednesday, April 22, 2009: Earth Report: State of the Planet 2009.

Volcanologist Michael Ramsey, has spent 12 years investigating volcanic behavior, and is now using thermal infrared technology and data from NASA and weather satellites to determine when and how violently volcanoes will erupt. Thermal infrared imaging, which captures pictures of radiated energy invisible to the human eye, helps scientists like Ramsey track potentially deadly patterns of heat in and around some of the world's 1,500 active volcanoes.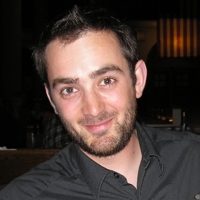 With funding from the National Geographic Society's Committee for Research and Exploration, Ramsey and his post-doctoral researcher, geologist Adam Carter, were able to fine-tune information they received from the Earth-imaging ASTER (Advanced Spaceborne Thermal Emission and Reflection Radiometer) sensor on NASA's Terra satellite by cross-referencing it with ground samples and images Carter collected at one of 29 active volcanoes on the Kamchatka Peninsula, in far eastern Russia.