[an error occurred while processing this directive]
DEPARTMENT NEWS!
Earth Science in the City now published!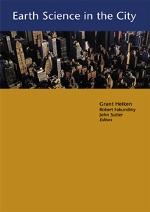 Dr. Michael Ramsey has authored a chapter in the new "Earth Science in the City" book published by AGU press. His chapter describes the mapping and monitoring of urban land cover change using satellite remote sensing. The Urban Environmental Monitoring project of the Advanced Spaceborne Thermal Emission and Reflectance Radiometer (ASTER) instrument is designed to capture images from 100 urban centers each year.
The book deals with how do natural and man-made processes affect cities and those living in them? Can we sustain life safely in our ever-expanding urban centers? Where do the geosciences enter the discussion? Earth Science in the City speaks to these and other current issues. With half of the Earth's people now living in cities, our capacity to understand and resolve urban issues has global implications. For urban geoscientists, researchers, and students of cities ...
AGU Special Publication Series Vol #56 2003, 440 pages softbound, ISBN#0-87590-299-5
To see a pre-print of the chapter, click here
For other Departmental News & Information, click here
First Announced: October 4, 2003
| | |
| --- | --- |
| | Last Updated: [an error occurred while processing this directive] |